Pedal 4 Possible FAQ
How much is it to register for P4P?
An individual rider registration for any distance is $80. If you prefer to sleep in or can't make it, we welcome you to register as a virtual rider for $50.
Am I required to fundraise in order to participate?
We love that P4P raises awareness for Craig Hospital. Thank you so much for being a champion and joining us for the ride. Fundraising is not required, however we ask that each rider raises $250 to support patients at Craig.
Did you know that we have a number of programs of excellence that are not covered by insurance, yet vital to the success of patients who sustained spinal cord and brain injury? Donor are essential in every patient being able to access state of the art care. For this reason, we hope you choose to make a gift to Craig and have your friends, family, colleagues and neighbors join in!
Plus, if you raise $250 or more, we'll treat you to a P4P jersey!
Can I pick up my ride packet before June 18th?
Yes! We'll host a packet pickup at the Craig Hospital Foundation (880 E Hampden Avenue) leading up to the race. The times will be as follows:
Thursday, June 16th: 11am-6pm
Friday, June 17th: 9am-1:30pm
If you can't make either of those days, you can pick up your rider packet at the registration/check-in table on the day of the ride, starting at 6am.
What time does my distance start?
We will do collective starts as follows, although riders may leave before these times:
Century: 7:00a.m.
100k: 9:00a.m.
50k: 10:00a.m.
10k: 11:00a.m.
When are aid stations open?
We have four aid stations along the ride and will be there to welcome you with a snack and smile. Locations are marked on this map. The stations will be open at the following times:
Aid Station #1 – 7am-3:30pm
Aid Station #2 – 7:30am – 3:00pm
Aid Station # 3 – 8:30am – 12:30pm
Aid Station #4 – 9:30am-12:00pm
Tell me about the party!
We'll have a post-ride party that includes games, food (catered by Famous Dave's starting at 12:30), beer (sponsored by The Boston Beer Company...bring your ID!), a sponsor village and info on Craig. It's going to be great! We'll be partying until 4pm, so bring your sunscreen, stick around and cheer on other riders as they cross the finish line!
What does the P4P jersey look like, what are the measurements and when will I receive my jersey?
Jersey orders have been placed!
Pearl Izumi has designed a super cool P4P jersey just for you! Raise $250, earn a jersey! We're placing the jersey order on June 21st to include as many people as possible, so you'll receive your jersey in the weeks following P4P.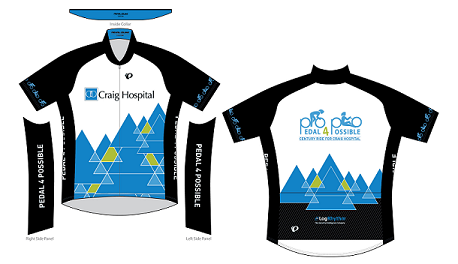 There are 11 sizes in our event jersey. Below are the chest measurements for each size to help you make the right choice:
XS: 30.5-33.75" XS/S: 33.75-35.25" S: 35.25-36.75" S/M: 36.75-38.25"
M: 38.25-39.75" M/L: 39.75-41.25" L: 41.25-42.75" L/XL: 42.75-44.25"
XL: 44.25-45.75" XL/XXL: 45.75-47.25" XXL: 47.25-48.75"
I cannot make the ride anymore. Can you give me a refund?
We are happy to transfer your registration to another rider but cannot offer a refund for any reasons.
Who do I contact with questions or about volunteering?
We're happy to help you! If you have questions about registration, fundraising, and sponsorships contact Becky (bplunkett@craighospital.org or 303-789-8166). If you have questions about the course, contact Claire (ccahow@craighospital.org or 303-789-8341).
If you'd like to volunteer at P4P, contact Andrea (aelmquist@craighospital.org or 303-789-8741).