Pedal 4 Possible FAQ
How much is it to register for P4P?
An individual rider registration for any distance before September 16th is $80. An individual rider for any distance on September 16th (event day) is $90. If you prefer to volunteer or you can't make it, we welcome you to register as a virtual rider for $50.
What does registration include?
A fully-supported ride, course aid stations, post-party with food and drink and an event t-shirt.
Am I required to fundraise in order to participate?
We love that P4P raises awareness for Craig Hospital. Thank you so much for being a champion and joining us for the ride. While fundraising in not required, we encourage each rider to raise at least $250 to support patients at Craig.
Did you know that we have a number of Culture of Care programs that are not covered by insurance, yet vital to the success of patients who sustained spinal cord and brain injury? Donors are essential in every patient being able to access state of the art care. For this reason, we hope you choose to make a gift to Craig and have your friends, family, colleagues and neighbors join in!
Once you register we'll email you fundraising tips. You'll also be given access to your participant center, a personal online fundraising center where you can customize your fundraising page and use the online tools to ask for fundraising support. With a $150,000 goal to support patients at Craig, we're looking forward to fundraising together!
Plus, if you raise $250 or more, we'll treat you to a custom P4P jersey!
The registration fee is not included in the $250 minimum.
Each team member must raise $250 or more to earn a jersey. Funds raised by team members cannot help riders reach their $250 minimum.
My child will be riding with me, do I need to register them?
Yes, we require riders of all ages to register. Trailers and carriers are only permitted on the 10K course.
How many people are required to be on a team?
Teams must have at least two members.
Is my donation or sponsorship tax deductible?
Craig Hospital Foundation is a 501(c)(3)not-for-profit [EIN 23-7352287], tax exempt charity registered and in good standing with the IRS. If you purchased a sponsorship or participated as a rider, please reference the table below that lists the value of the goods and services received based on your level of participation. The remainder of your contribution is deductible for tax purposes in the manner and to the extent provided by law. All donations made in support of Pedal 4 Possible are 100% tax deductible. Please consult your tax advisor.

Will I receive a receipt for my registration?
No. All online registrants will receive an immediate email acknowledging their registration.
Will I receive a receipt for my donation?
If you make a donation of $50 or more, you will receive a receipt for tax purposes in the mail. Donations under $50 will be acknowledged via email. Please contact us if you need a hard copy for your files.
Where do I send a check donation?
Craig Hospital Foundation
3425 S. Clarkson Street
Englewood, CO 80113
Please write "P4P" and the name of the rider (if you are donating to a rider) in the check memo.
Can I pick up my ride packet before September 16th?
Yes! We'll host a packet pickup at the Craig Hospital Foundation (880 E Hampden Avenue, Englewood, CO 80113) leading up to the race. The times will be as follows:
Thursday, September 14th: 11am-6:30pm
Friday, September 15th: 9am-1:30pm
If you can't make either of those days, you can pick up your rider packet at the registration/check-in table on the day of the ride, starting at 6am.
What happens if it rains?
P4P is rain or shine unless a weather emergency occurs.
What time does my distance start?
We will do collective starts as follows, although riders may leave before these times:
Century: 7:00am
100k: 9:00am
50k: 10:00am
10k: 11:00am
Tell me about the party!
We'll have a post-ride party that includes food (catered by Famous Dave's starting at 12:00pm), beer (sponsored by The Boston Beer Company...bring your ID!), a sponsor village and info on Craig. It's going to be great! We'll be partying until 4pm, so bring your sunscreen, stick around and cheer on other riders as they cross the finish line!
Can I bring my dog?
Please leave your pets at home unless you have a service animal.
What are the P4P jersey measurements?
Pearl Izumi has designed a P4P jersey just for you! Raise $250, earn a jersey! It's incredible how fast you can get to $250 when you just ask!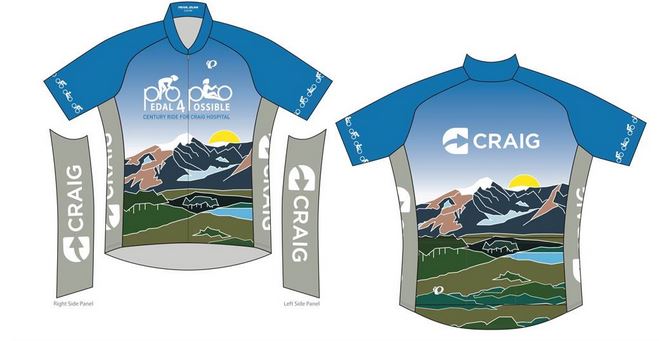 There are 11 sizes in our event jersey. Below are the chest measurements for each size to help you make the right choice:
XS: 30.5-33.75"XS/S: 33.75-35.25" S: 35.25-36.75" S/M: 36.75-38.25"
M: 38.25-39.75" M/L: 39.75-41.25" L: 41.25-42.75" L/XL: 42.75-44.25"
XL: 44.25-45.75" XL/XXL: 45.75-47.25" XXL: 47.25-48.75"
Please note, you will receive your jersey after the ride.
I cannot make the ride anymore. Can you give me a refund?
We are happy to transfer your registration to another rider but cannot offer a refund for any reasons, as this is a fundraising event.
How do I volunteer?
If you are a current and active Craig volunteer, please click here!
Who do I contact with questions?
If you have questions about registration, fundraising, and sponsorships contact Caroline (ccraven@craighospital.org or 303-789-8919).
If you have questions about the course or volunteering, contact Amber (aflores@craighospital.org or 303-789-8346) or Robyn (rperez@craighospital.org or 303-789-8597).